Volusia County Law Library Catalog
---
Featured Title
Overview of Florida's Construction Lien Law 2022, by Barry Kalmanson
This book provides extensive information and analysis, relevant statutory references, and necessary forms for construction lien law actions.
Mr. Kalmanson has concentrated his legal practice in the construction industry for over 30 years. His emphasis is on the representation of contractors, subcontractors, and materialmen. He has represented parties in thousands of construction lien, payment bond actions, and payment disputes.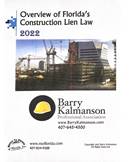 This is a list of the Volusia County Law Library's resources by legal topic/subject heading and location. Please contact the Law Library for additional information.